Description
Doxy Die Cast - White
For customers who love our Doxy Original experience, and who would like even bigger feelings, the Doxy Die Cast is what you are looking for. It's so special that it's delivered in its own luxurious keepsake box. It has all the qualities you treasure about the Doxy Original but, because it is cast in an aluminum-titanium alloy, its stunningly sleek body has more weight and delivers an even more profound experience.
OUR FLAGSHIP, THE DIE CAST VIBRATING WAND MASSAGER — CAST IN ALUMINUM/TITANIUM ALLOY FOR A SLEEK, LUXURIOUS DOXY EXPERIENCE.
Everything And More
All your favorite Doxy features are the same as the Doxy Original. Easy controls deliver just as many of those really pleasurable moments (RPMS) all the way from 3,000 to 9,000, at the touch of a button, and you can still enjoy the escalating pulse mode. It's the weightier metal body that emphasizes the power of the vibrations to make your Doxy massage experience even more intense. It's hard to put power into a number, but we'd say the Die Cast boasts 20% more intensity over the Original. We achieve this by adding in heavier weights inside, to give it more of a deeper throbbing sensation.
Feel The Power
The intensity of the Doxy Die Cast vibrations will penetrate deep into your tissue to set even more of your nerve endings tingling. The 6cm silicone-covered head ensures you will feel every sensation to the fullest.
Time to be creative
With an extra 190g of weight, the Doxy Die Cast is a handful of energy for you to position just as you like or heavy enough to rest in place for a liberating hands-free experience - Ideal for those with restricted mobility.
Your safety is very important to us
The plug-top power supply allows only low voltage, direct current to enter the product, ensuring safe and hassle-free use worldwide. You won't have to worry about your nearest power socket thanks to the generous 3metre (10ft) cable. Feel the power of the Doxy Die Cast for yourself.
Precision Body
Aluminum/titanium alloy body that offers extra robustness. Weighted to position and stay in place for a hands free experience.
Easy Control
Variable speed from approx. 3000 RPM to 9000 RPM and variable escalating pulse setting using the 3 easy to use control buttons. Press and hold the power button for 3 seconds activate pulse mode.
Silicone Head
The massager's head is covered with silicone, giving it a large comfortable surface area that conducts the powerful vibrations to your body. Easy to clean and care for - simply wipe down with a wet wipe after use.
Power Supply
Interchangeable Power Supply
INPUT:100-240V-50/60Hz 0.8A
OUTPUT: 13V 1500mA
Product Dimensions
Body Length: 37 cm
Head Diameter: 6cm
Body Circumference: 16cm
Weight: 690g
Boxed Dimensions
Length: 49cm
Width: 11cm
Height: 8.5cm
Weigh: 1400g
Power Supply
Plug-top power supply delivers low voltage direct current
Provided Adapters in the box - UK, EU, US & AU
Cable Length
3 meters (10 feet)
Colors
Brushed Metal, Black, Red & Purple
Hello!! From across the pond comes the white Doxy Die-Cast Wand! To all, its easily more powerful, than the original magic wand. Because of it's weighted head and die-cast body, the vibration is more of a heavy rumble designed to provide sensations deep within. Stimulating deeply is why this wand is cherished by women everywhere. The Doxy Die Cast Wand Massager is a very special edition of the Doxy Massager. Unlike original magic wand, the body is made from a polished aluminum/titanium alloy manufactured in the Cornwall foundry using a high pressure (550 tons) injection, cold chamber die casting machine. After casting, the body goes through a five stage polishing process that brings up the beautiful high luster finish. The size is the same as the Original Doxy Wand Massager so it will take the standard sized attachments. However, it is heavier at 830 grams (680 grams not including the plug). The head cover is smooth easy to clean pure medical grade silicone. The three large simple buttons are lit with blue LED lights so you can find them easily in the dark. Why waste valuable time looking for pleasure. The Die Cast has a variable escalating pulse setting (like the standard Doxy), something the hitachi magic wand doesn't have. It operates with any voltage so can be used safely anywhere in the world (with a suitable plug adaptor). As it is a step up, it comes packaged in a custom-made zipped padded case for easy storage. All Doxy Massagers carry a full warranty for 12 months.
The Doxy Die Cast massager is truly an "upgrade" to the original Doxy Massager. This luxury wand massager has the same RPM range, cord length, and plug-top power converter of the original Doxy, but with additional features that our customers have asked for. This is a hefty pleasure product, coming in at 2 pounds 13 ounces in its zippered case.
The Doxy Die Cast comes in its hard shell case enclosed inside a plain white cardboard box with the Doxy logo. Each Die Cast has a serial number and comes with the same 365 day warranty as all Doxy products. The Doxy Die Cast has the same sized head as the Doxy Massager, so the standard large wand attachments and accessories will also fit on the Die Cast. Features that separate the Die Cast from the original Doxy include:
Aluminum and Titanium handle
Silicone head
LED lighted buttons
Double-weighted head giving it a more "thuddy" feeling at higher RPMs
Hard shell zippered case included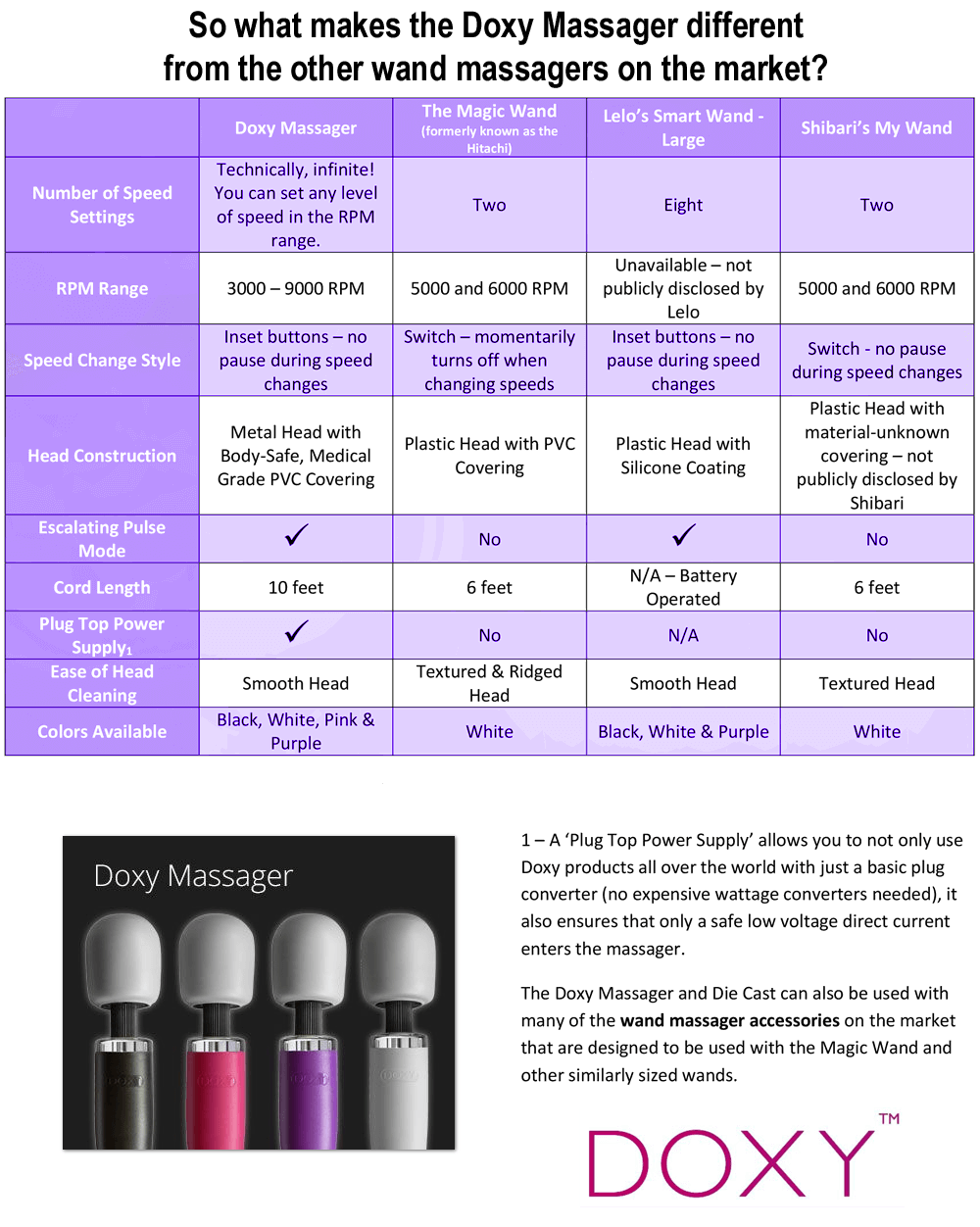 Additional Details
SKU:

UPC:

702565869091